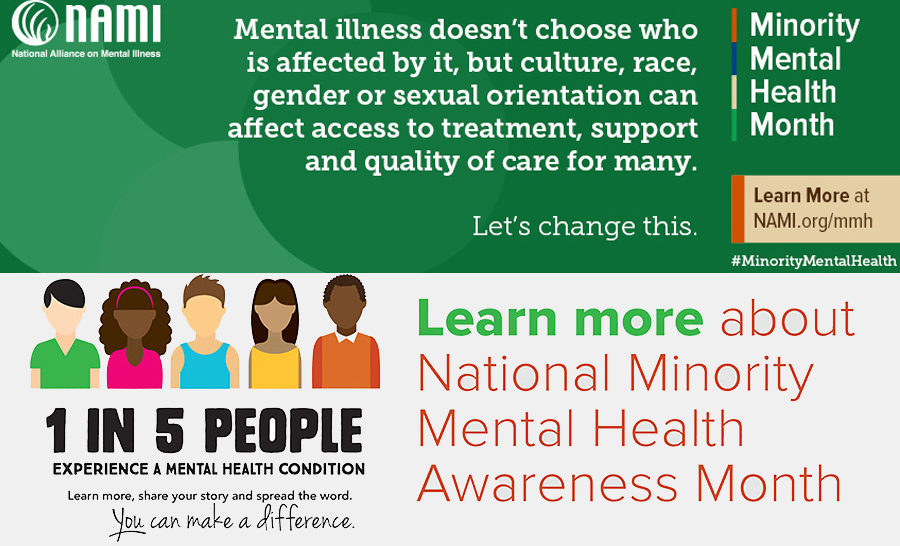 Regardless of age, race, or who you are, anyone can experience problems with a mental illness. According to the National Alliance on Mental Illness (NAMI), every year, one in every five adults will experience a mental illness. That's an astounding 20 percent of the population. Unfortunately, even though everyone can experience mental illness, not every person from every walk of life or background is going to have the same access to the psychological treatment they need to properly deal with their mental health. In 2008, the U.S. House of Representatives established the month of July as Bebe Moore Campbell National Minority Mental Health Awareness Month.
Bebe Moore Campbell was the co-founder of NAMI, and worked tirelessly before her death in 2006 to advocate for individuals in minority crowds to receive the proper education and treatment for their mental health. Thanks to National Minority Mental Health Awareness Month, every year in July, attention is given to those efforts she was so passionate about.
A Look at the Facts About Minorities & Mental Health
Understanding that there can be differences in how minorities are treated when they have mental health issues and what treatment is actually available to them sheds light on the fact that work still needs to be done. There are several facts that prove mental health care can leave those in minority groups with major barriers when it comes to getting better. Some of the most noteworthy statistics include:
Looking at these numbers proves that minorities need their own designated mental health awareness month, but why are there such great differences in the numbers? There are several associated factors, but lacking health coverage and stigma play huge roles in the problem of these individuals not getting the treatments they need.
Healthcare and Insurance Coverage for Mental Health Conditions Is Not Always Accessible
One big problem for minorities is the lack of access to proper mental health care. If care is available, some minorities face unfair treatment through medical providers, which means they shy away from getting treatment at all. For many minorities, it is the lack of funding to pay for the costs of mental health care. Even though state-funded Medicaid and similar plans are available to some, not every individual in a minority group has access to coverage, and even if they do, mental health services may not be covered.
The Problem with the Stigma of Mental Health Conditions & Minorities
Stigma is a huge problem for minority groups when it comes to mental health care. Two-thirds of people who have a mental health issue among these groups will never actually seek the proper treatment. Much of this is relative to resistance to bring up the topic for fear of judgment from within their own community. For instance, African American women are often taught that they should be strong leaders of the household, so something like depression or anxiety may be stigmatized as a weakness instead of an illness.
To do your part to help bring the issue of minority mental health disregard to light, make sure you take part in Minority Mental Health Awareness Month throughout July. Get familiar with NAMI's WhyCare? campaign, which supports all people affected by mental illness, use their resources to create your own campaigns to drive awareness, and most of all, keep the discussion about mental health and minorities an open-ended topic in personal relationships with friends and family members and your community.
Source